Schengen visas, made easy
We help you understand requirements, gather the correct documents, prepare for the interview, and apply with confidence
VisaHQ online consultation
Schedule Q & A call
VisaHQ specialist will answer all your questions and help you get started
VisaHQ will proofread the application and assist with assembling the paperwork
Pre-check documents
Submit the online form and upload copies of supporting documents for specialist to review
Visit the Consulate
You are fully prepared! Take the application kit to the consulate to apply in person with confidence
Get your visa delivered!
We do our best to get you on your way as quickly as possible
We will guide through every step in preparing your application
100% money back guarantee
Help you plan your trip
Answer all your questions
Assist with the application form
Gather correct documents
Prepare you for the interview
Precheck documents prior to embassy visit
Gain confidence and peace of mind
For a limited time only
$99
Service fee
Schengen Visa Information
Schengen visa - travel document that allows a person to enter the Schengen zone for a designated period of time. The Schengen zone refers to the area that encompasses the European states that are members of the Schengen Agreement and include 26 countries that issue Schengen visas, 22 European Union member states and 4 members of European Free Trade Association. A valid Schengen visa issued by any of the Schengen states will allow you to travel to other Schengen states as long as you have proof of pre-existing travel arrangements, you can enter any other Schengen zone country with the same visa after entering the Schengen zone through the country of the issuing authority
Schengen visa requirements
Travelers are required to fulfill the following requirements in order to apply for a Schengen visa.
If you plan to visit more than one Schengen state you will need to apply for a visa at the Embassy or Consulate of the country you will stay at for the majority of the duration of your visit, or the country that you will be entering the Schengen zone through first.
You must complete and sign the Schengen Visa Application form.
You must provide the most recent passport type photo that meets specific Schengen visa photo requirements (dimensions 45x35mm, 32-36 mm face from chin to hairline, neutral expression, wearing no glasses, face centered, light background, no shadows, no blurring).
Your passport must be valid for at least 3 month period after your departure from the Schengen area and must have at least 2 blank visa pages, these do not include the 2 amendment pages found towards the back cover of the passport.
Copies of all the prior issued visas to Schengen States are to be provided.
Book your flights to and from Schengen area and reserve hotels for the whole duration of the intended stay and have all the supporting documents related to your itinerary with specified dates of entry and exit, flight numbers and hotel booking data ready for your application.
Travel insurance that covers medical expenses up to 30,000 euros (varies based on the country) and is valid in every Schengen state.
Proof of sufficient financial means during your stay (bank statement, tax information etc.).
Schengen Visa Application Process
1.

Check if you need a Schengen visa and select which country visa you will be applying for the visa

2.

Download and complete the application form entirely, sign the form.

3.

Obtain proof of insurance from your insurance company.

4.

Prepare bank statement and other financial documents that can prove your have sufficient funds for your travel.

5.

Make an appointment at the Embassy or Consulate of the country of your main (longest stay) destination. It is advised to set an appointment 2-3 weeks prior to your intended dates of travel.

6.

Submit all the documents

7.

The consulate advises that it usually takes 3-4 business days for visa processing, but confirm your pickup date at the time of submission in case of delays during high volume season.
Schengen Visa Fees
Applicants are required to pay a nominal visa fee when applying for a Schengen visa. This fee is non-refundable even if the application was rejected and the visa was not issued by the consular department of the embassy. The approval and issuance of a visa is based entirely on the discretion of the consulate general.
| Visa type | Visa Fee |
| --- | --- |
| Short stay (90 days) | 60.00 EUR |
| Long-term stay (over 90 days) | 99.00 EUR |
| Children visa (6-12 years old kids) | 35 EUR |
| Children visa (< 6 years old kids) | Free / Gratis |
| All visa types for Georgia, Kosovo, Russia and Ukraine citizens | 35 EUR |
| All visa types for students and accompanying teachers when traveling on educational purposes (proof needed) | Free |
| All visa types for researches when traveling on scientific research purposes (proof needed) | Free |
| All visa types for non-profit organizations representatives aged 25 or below when traveling for participating in educational events | Free |
* Different rates may apply for different Schengen countries
How to apply for Schengen visa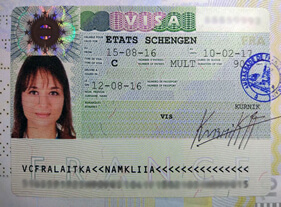 Unfortunately at this time there is no possibility to apply for Schengen visa online instead of going to the Consulate of selected country in person. You need to fill into the forms, collect all the documents needed (see checklist of the documents below) and apply directly at the Consulate.
First of all you will need to book your appointment in advance. Be advised to plan it at least 15 days prior to your intended departure, but not earlier than 12 weeks before you travel.

Fill into the application form and make sure you do not leave blank fields. If some answers cannot be given - write N/A in appropriate field.

After your appointment is scheduled and form is filled double check the documents required for the application and take passport type photo that will meet requirements for background, size etc.

Attend your appointment on time, and be ready to answer some questions regarding your travel plans and some personal details (you might be questioned about your education, job position and company background).

Some countries (i.e. Italy, France) will require you to provide biometric identifiers (fingerprints and a digital photograph) as part of the visa application process. This information will be stored on the Visa Information System (VIS) and can be used for your next applications for Schengen visas.
Do I need a Schengen visa?
You will need to apply for a Schengen visa prior to visiting the countries on the list above if you hold a passport from the following countries:
You do not have to be at the country of your citizenship to apply for a Schengen visa. You can do it from the country of your permanent residence, but you will have to submit a proof of your legal status there.
Insurance for Schengen visa
Travel insurance is required for successful application for Schengen visa. Your insurance should cover EUR 30,000 and be acknowledged in all the Schengen member states, not only in the country of your destination.
Travel insurance usually also includes so called cancellation insurance that will cover losses from lost luggage, cancellation of your flight and other force majeure happenings.
When choosing insurance for a Schengen visa application make sure that the document is valid for all the state member countries, not only your destination country.
Documents required for Schengen visa - checklist
Here you can find the checklist for the documents required for applying for Schengen visa. It is general list for all the countries but you should also check the specific requirements of the country you are going to visit.
1.

Passport - valid at least 3 months after you plan to return from your travel, with at least 2 blank pages.

2.

Photo - passport type.

3.

Visa application form - filled into and signed.

4.

Proof of travel medical Insurance.

5.

Proof of accommodation - booking etc.

6.

Proof of sufficient means of subsistence - bank statement etc.

7.

Contact information to a reference in visiting country.

8.

Proof of stable income - tax information etc.

9.

Proof of employment or enrolment in your country of residence.

10.

Copies of all the documents.

11.

Copies of all Schengen visas that were issued for you in the past.

12.

Letter of invitation - if attending any event, meeting, conference etc.
* All documents are to be A4 format.
In addition to the general list you may be required to have a proof of your entrepreneur status (if applicable), family status (marriage certificate etc), national passport (in some countries). Usually all the documents are to be copied.