Apply online
Visit our office
Mail documents
We prepare your documents and application
Receive visas
Submit application in person
Expert in India visa services since 2003,
VisaHQ is a private visa agency, not affiliated with the government of India. VisaHQ provides
expediting services
error-proofing your application
hand-carry delivery to Consulate
real-time status updates
dedicated call center
for visa to India and charges a service fee. See how we compare in the 90 seconds
video
India E-visas must be obtained prior to travel to India. No documents need to be mailed to VisaHQ for processing. You will receive an Electronic Travel Authority by e-mail. Biometric details will be taken upon arrival in India.
If you have a valid visa in your old passport, this visa is still valid for entry. You have to bring your old passport along with your new passport and earlier granted valid e-Visa (ETA) document with you. Please do not apply if you have a valid visa in any other passport. Your application will be rejected. If your passport with Indian visa was lost, and you are applying with a new passport, please let us know


Those who visited People's Republic of China on or after January 15, 2020 may contact nearest Indian Embassy/Consulate for regular visa.
Fill out India tourist e-visa application form online
and provide digital copies of the following documents:
a
Scanned copy of United States of America passport. A clear scan of the photo page and information pages of your valid, signed passport. The passport must also have 2 remaining blank pages upon arrival in India.
b
Passport-type photograph: must be uploaded to your applicant profile.
Former citizens of India
Former Indian Nationals that have been Naturalized must provide copy of stamped Renunciation Form or Deemed Surrender Certificate in order to apply.
Required ports of entry
Travelers must enter at one of the following airports: Ahmedabad, Amritsar, Bagdogra, Bengaluru, Calicut, Chennai, Chandigarh,Cochin, Coimbatore, Delhi, Gaya, Goa, Guwahati, Hyderabad, Jaipur, Kolkata, Lucknow, Mangalore, Mumbai, Nagpur, Pune, Tiruchirapalli, Trivandrum, Varanasi & Vishakhapatnam
or seaports: Cochin, Goa, Mangalore, Mumbai, Chennai.
However, travelers can exit from any of the authorized Immigration Check Posts (ICPs) in India.
Persons with Occupation Related to Media
For journalists, writers, photographers, designers, and those who work with media; regardless of purpose in India, must apply for a Journalist Visa.
IMPORTANT:

Applicants who:

• have been arrested/ prosecuted/ convicted by Court of Law of any country;

• have been refused entry / deported by any country including India;

• have been engaged in human trafficking/ drug trafficking/ child abuse/ crime against women/ Economic offense / Financial fraud;

• have ever been engaged in cyber crime/ terrorist activities/ sabotage/ espionage/ genocide/ political killing/ other act of violence;

• have by any means or medium, expressed views that justify or glorify terrorist violence or that may encourage others to terrorist acts or other serious criminal acts;

• have sought asylum (political or otherwise)in any country

Are ineligible for e-Visa and must instead apply for a visa at the nearest Indian Consulate. Please contact VisaHQ for more information.

For travellers with Pakistani passport or Pakistani origin
International Travellers having Pakistani Passport or Pakistani origin may please apply for regular Visa at Indian Mission.
India tourist e-visa fees for citizens of United States of America
Type of visa

Validity

Maximum validity refers to the period over which you are allowed to enter a given country. Validity of visa starts from the date of issuance of visa.

Processing

Processing times start on the next business day following submission and serve as indications of processing times under normal circumstances only.

Embassy fee

Service fee
Total cost

Multiple entry

up to 1 year
3-5 business days
41.00
59.00
100.00
up to 5 years
3-5 business days
82.00
59.00
141.00

Double entry

up to 1 month
3-5 business days
26.00
59.00
85.00
Validity: up to 1 year
Processing: 3-5 business days
Total cost: 100.00

Cost calculation

Embassy fee:

41.00

Processing:

59.00

:

0.00

Total cost: 100.00
Validity: up to 5 years
Processing: 3-5 business days
Total cost: 141.00

Cost calculation

Embassy fee:

82.00

Processing:

59.00

:

0.00

Total cost: 141.00
Validity: up to 1 month
Processing: 3-5 business days
Total cost: 85.00

Cost calculation

Embassy fee:

26.00

Processing:

59.00

:

0.00

Total cost: 85.00
Maximum stay in India: 180 days

Maximum stay refers to the number of days allowed on a single visit.
Maximum stay in India: 180 days

Maximum stay refers to the number of days allowed on a single visit.
Multiple entries will be granted within the e-Visa validity period stamped on your passport.
India visa for citizens of United States of America is required. For more information please contact the nearest
India embassy
.
Your documents
are safe with VisaHQ
All passports are
covered for up to
500
We take our job seriously. All passports that are submitted to VisaHQ for processing are covered for up to $500 against any loss or damage. If you choose FedEx when applying online, we will even cover your passport in transit to us and from us to you.
Your peace of mind is our greatest reward
Find us near you
To apply for India visa in
India visa information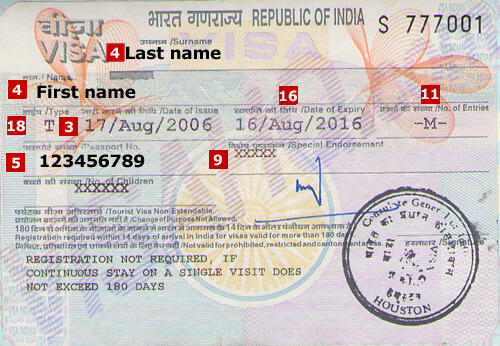 3
India Visa issue date (format might be different from MM-DD-YYYY).
4
Name of India visa holder
5
Traveler's passport number.
11
Number of allowed entries to India (subject to visa validity dates).
16
Date of India visa expiration
18
Purpose of entry to India (type of India visa)
Frequently Asked Questions about India visa
How do I apply for a visa?

Apply on our website. Completed application form for India will be prepared within 5 business hours of order submission, and emailed to you to download, print and sign. Check the document checklist carefully and email us the documents. Once your visa is issued the passport will be mailed to you.

I am traveling through India to another country, do I need a visa?

Anytime you are traveling to India, you must obtain a visa. Transit visas are offered for this circumstance.

Do I need a visa to go to India?

Citizens of United States and Non-US Passport Holders currently residing in US may apply under 'Tourist Visa' to travel to India for tourist purposes i.e. recreation, sightseeing, casual visit to meet friends and relatives etc. On our website you will get the information of the visa / category including jurisdiction, fees, document, checklist, forms, etc.

What are the different kinds of visas available?

Business Visa
Tourist Visa
Conference Visa
Employment Visa
Medical Visa
Missionary Visa
Research Visa
Student Visa
Transit Visa
Visitor Visa
Work Visa
VolunteerVisa

I was (or my parents/grandparents were) born in Pakistan, is that a problem?

If you or your parents / grandparents were born in Pakistan, your visa processing time may also be delayed. These are only approximate timelines and could vary from individual to individual.
Location

Shantipath, Chanakyapuri

110021

New Delhi

India

Location

Paigah Palace

1-8-0323

Chiran Fort Lane,

Begumpet

Secunderabad - 500003

Andhra Pradesh

Hyderabad

India

Phone

+91-40-4625-8222

+91-12-0484-4644

Location

No. 220, Anna Salai

600006

Chennai

India

Phone

+91-44-2857-4000

+91-44-2811-2000

Location

5/1, Ho Chi Minh Sarani

700071

Kolkata

India

Location

C-49, G-Block, Bandra Kurla Complex

Bandra East

400051

Mumbai

India
United States of America Embassy list in India
India Customs
Import Regulations
Export Regulations
Health and Security
Contact Customs Authorities
Tobacco products 200 cigarettes or
50 cigars or
250 grammes of other tobacco products;

Alcoholic beverages Up to 2 litres of Wines or alcoholic beverages;
Perfume 59 ml of perfume
250 ml toiletries

Authorized personal goods
An unlimited amount of foreign currency can be imported into the country. Sums equalling US10000in local currency must be declared upon entry. Foreign travellers cannot take more foreign currency with them than the amount they entered India with but sums less than US 10000 generally will not need to be declared.
The following items are banned from entering or leaving the country unless under certain circumstances or limitations.


Illegal drugs
Firearms and ammunition - unless permission has been obtained
Knives and deadly weapons
Pets and other live animals - unless permission has been obtained
Birds and bird products -eggs and feathers
Pigs and pig meat products
Endangered plants
Plants and plant products - unless permission has been obtained
Radio transmitters
Culturally important or valuable antiques
Counterfeit money and goods
Pornographic material
The following items are banned from entering or leaving the country unless under certain circumstances or limitations.


Illegal drugs
Firearms and ammunition - unless permission has been obtained
Knives and deadly weapons
Pets and other live animals - unless permission has been obtained
Birds and bird products -eggs and feathers
Pigs and pig meat products
Endangered plants
Plants and plant products - unless permission has been obtained
Radio transmitters
Culturally important or valuable antiques
Counterfeit money and goods
Pornographic material
Basic health information for travelers to India
A yellow fever vaccination is required for all travellers coming from or through an infected zone. Any traveller planning to visit the country is advised to obtain a vaccination against the disease prior to arranging their visit.
Tap and other natural water sources should be considered infected and needing heating to be made safe. Icy should be avoided and sealed bottles of water are advised upon entry into the country. Milk and dairy products should be considered unsafe unless pasteurized first. All fruit, fish, meat and vegetables should be thoroughly cooked before being served and should always being eaten boiling hot for safety reasons. Salad should be considered unsafe and fruit should be peeled before being eaten.
Reports of bird flu from contaminated poultry have been reported in India and all travellers are advised to exercise caution if eating any egg based products during the course of their stay in the country.
Food and drink bought from vendors is not advised owing the chance of contamination from bad cooking and local pools, lakes and other water sources avoided owing to the likelihood of contamination and disease.
Before visiting the country, travellers are strongly advised to obtain appropriate vaccinations against a wide range of food and water based diseases which are present throughout India including Hepatitis A, Cholera, Typhoid and Diphtheria.
Cases of Malaria and Dengue Fever from deadly mosquito's bites have also been reported in the country. Malaria is a year round danger in most areas of the country below 2300feet and has been reported in Assam and Mumbai amongst other places. All travellers are strongly advised to obtain plenty of close fitting clothing and insect repellent for protection and should seek out immediate medical assistance in the event of infection.
HIV and Hepatitis B are also both present in India and travellers are urged to maintain all necessary precautions when dealing with bloody or dirty needles or when engaging in sexual activity throughout your visit.
There are yearly reports of Japanese Encephalitis in more rural areas and travellers staying in the country for more than a month of participating in plenty of outdoors activities should obtain protection against the disease.
Travellers visiting the country should also stay away from any wild dogs or similar animals whose bites may contain Rabies. If bitten, travellers should immediately clean the wound before seeking medical assistance to check for any signs of infection.
Altitude sickness can become a serious danger to travellers visiting sections of the country over 2500 metres high. Any traveller feeling lightheaded or sick at these or higher altitude is advised to rest before heading slowly towards a lower altitude and to seek out medical aid if symptoms persist.
Travellers should dress appropriate to the region of the country that they are planning to visit with plenty of sunscreen and bottled water for the hotter areas and heavy clothing for the more higher or remote sections.
The country has a reasonable standard of healthcare in the major cities but standards may fall dramatically in more poorer or isolated sections of the country. Supplies of vital medicine may become difficult to obtain and all traveller are advised to take a personal medical kit in case of an emergency.
Noted hospitals in India include the Apollo Hospital in Hyderabad, the Fortis Hospital in Mohali and the P.D. Hinduja National Hospital in Mumbai. Doctors throughout the country are likely to demand instant payment for services rendered. An emergency evacuation may be required in the event of serious illness or injury and full travel and health insurance should be obtained prior to arrival.
Basic security information for travelers to India
There is a higher than normal danger from terrorist attacks in India with many regions and borders of the country considered potentially dangerous for foreign visitors. All travellers are strongly advised to check the region of the country that they are planning to visit for any current political or social instability prior to arranging their visit. Whilst inside the country, travellers should exercise great caution when visiting hotel resorts, restaurants, sporting venues or other public locations.
Recent incidents of violence against foreigners throughout the country include explosives planted at a cricket match in Bangalore, Karnataka and in the holy city of Varanasi which killed one child and injured six foreign civilians.
Owing to the extreme risk of terrorism and general acts of violence, travel to Jammu and Kashmir and the north east is not advised. Travellers are also strongly advised to consider their personal safety if deciding to visit the borders with Burma, Bangladesh, Bhutan and Pakistan with unexploded landmines and other deadly ordinance still present and a heavy military presence likely to be evident on both sides of the border. Travellers to India should note the continued state of tensions and potential for armed conflict between India and Pakistan and check the current state of political tensions before travelling to the country.
Dangers to a traveller's safety in India can also come about thanks to occasional conflicts between different castes and religions throughout the country and all travellers should exercise caution if visiting during any major religious celebrations or protests which could quickly turn violent.
Incidents of petty theft and more violent crimes against foreigners have been reported throughout the country in airports and on public transport. Travellers visiting the country are advised to keep their passport and other valuable items in a safe location for the duration of their visit and avoid any obvious public displays of wealth which could serve to attract unwanted attention.
Reports of foreigners being drugged have been noted to be on the increase and travellers should take great care when eating or drinking in public and should check the strength of any alcoholic drinks on offer which might be stronger than foreign travellers are used to. Female travellers in particular should take care if travelling alone after dark owing to reports of women being attacked and sexually assaulted throughout their visit to the country.
Protests and demonstrations are a frequent occurrence throughout different regions of India and regularly turn violent. All travellers are advised to stay away from any large groups or protests which can potentially become unsafe and could lead to an uncomfortable encounter with the police or the security services. Curfews are often imposed in the country and all visitors should keep a copy of their passport with them at all times. Travellers are also advised to stay updated regarding the countries current political situation both prior to and during your visit to the country and should plan their visit accordingly.
Foreigners should exercise great care if driving around India thanks to the large number of accidents caused by the difficult environment and traffic conditions. Although reasonable in main cities, overall road quality becomes considerably poorer elsewhere in the country and car related accidents and fatalities are common. Foreign drivers should exercise caution when driving at all times throughout the country and avoid driving down poorly lit roads late at night. All drivers can also expect additional complications resulting from heavy levels of traffic, buses, scooters, horse and elephant riders and livestock.
Some roads may occasionally be disrupted or closed by police or army forces and violent assaults on foreign drivers are not unheard of. Flooding and other natural disasters can also sometimes close or disrupt transport throughout the country and all travellers should check their intended route before beginning their journey. Travellers should always remember to take extreme caution if travelling close to or through any potential areas of conflict or where incidents of terrorism and violence have been reported.
Foreigners planning on travelling by train should take care if accepting any food or drink which could be drugged. Poor conditions of both the trains and the tracks have often resulted in accidents and travellers should be prepared for packed or uncomfortable conditions on any form of public transport including trains and buses.
Visitors planning on a long visit to the country should make sure that they have obtained all necessary vaccinations against the many insect and water based diseases present in the country and have a suitable medical kit on hand in the event of an emergency.
Travellers in poor medical condition should exercise caution if visiting either higher regions of the country or during the summer months and take appropriate measures to stay safe and healthy throughout their stay.
Monsoon season in India normally runs from June to September and often results in flooding and landslides that can cause great damage to property and loss of life. Travellers should especially take care if visiting Mumbai during times of high tides or Monsoons which can result in sections of the country being cut off from each other and prove a potential health and safety risk. Much of the East coast of India suffers various Cyclones and Tropical Storms and all travellers should stay out of the water during unsafe or unpredictable weather conditions.
India is in a seismically unstable region and violent Earthquakes often strike the country and can cause much loss of life and property. Travellers visiting the country should stay updated regarding any predicted Earthquakes or other dangerous weather hazards and plan the rest of their visit accordingly.
All visitors to India are advised against committing any crime which could potentially bring them to the attention of the Indian police of other state authorities. Photos taken of important military or government facilities, including embassies and airports, could be removed without warning by the security services. Possession or trafficking in illegal drugs will be met with severe penalties and long term prison sentences and travellers should make sure that all required medicines brought into the country with them are sufficiently labelled if examined by the police.
Foreign visitors to India should maintain a polite and respectful manner at all times throughout their visit and avoid any remarks or behaviour which could attract attention. Travellers to the country are advised to dress modestly in public and to remember that nudity on the countries beaches in illegal.
Homosexuality is not illegal in the country but is often considered a taboo subject by both Indian citizens and their government alike. All couples visiting the country are advised to avoid any potentially complicated situations by limiting any open displays of affection which could attract unwanted attention and lead to violence.
Indian Customs contact information
For further assistance please contact the Indian Customs authorities directly. They will provide the latest information about customs regulations and export-import procedures.


For additional information about travel restrictions, security warnings, political updates, and basic travel guidelines, please contact the nearest Indian Embassy.