Apply online
Visit our office
Mail documents
We prepare your documents and application
Receive visas
Submit application in person
Expert in Thailand visa services since 2003,
VisaHQ is a private visa agency, not affiliated with the government of Thailand. VisaHQ provides
expediting services
error-proofing your application
hand-carry delivery to Consulate
real-time status updates
dedicated call center
for visa to Thailand and charges a service fee. See how we compare in the 90 seconds
video

Thailand
Visa

for Fiji passport holder living in United States of America
COVID-19 / Health Insurance for travel to Thailand
Issuance of tourist visas has been suspended until further notice.
Select the type of Thailand tourist visa application:
and send the following documents to VisaHQ:
a
Thailand visa application form. For online orders, please download, print and sign Thailand visa application, prepared by our system under your account.
b
Original, signed Fiji passport with at least 6 months of remaining validity.
c
Passport Photo: 2 Include a passport style photo, with a white background, taken within the last 6 months. You may also choose to upload a photo to your order for us to print. There is a surcharge associated with this service.
d
Proof of Status. Copy of Green Card or other proof of legal status in the US (such as copy of I-20, DS-2019, H1B approval notice, etc. VisaHQ cannot assist US B1/B2 visa holders at this time.)

e
Itinerary. Copy of round trip tickets or detailed itinerary for the duration of the trip (Applicant's name must be on itinerary).

f
Bank statement. Copy of the applicant's most recent monthly bank statement showing proof of sufficient funds ($700 per person). The statement must clearly show the applicant's name as the account holder, the balances of the accounts, and the date of the statement.

g
Bank Statements. For multiple entry requests, applicants must provide a bank statement from each of the last 6 months showing a constant $7,000 balance every month.

h
Employment Letter. An employment verification letter from applicant's employer on business letterhead, with contact details, stating that a leave of absence has been granted, purpose and duration of the trip, and that you will be returning to your current job. If you are self-employed, include a copy of your business license and tax return. For students, please submit an official letter from your school indicating that you are in good standing and that you are registered for the upcoming semester. If you are retired please submit proof of your retirement fund.

i
Hotel Reservations. For multiple entry requests, a copy of confirmed hotel reservations (Applicant's name must be on Hotel Reservation).

Additional required documents for minors (under 20)
Additional required documents for minors (under 20):
• Birth certificate. A notarized copy of the applicant's birth certificate.
• Letter of consent. A notarized letter of consent signed by both parents, specifying who will be traveling with the child and authorizing the Consulate to issue a visa to the child.
• Parents' passport copies. A notarized copy of the information pages of both parents' valid, signed passports.
• Marriage certificate. A notarized copy of parents' marriage certificate (if applicable).


All documents not in English must be accompanied by certified English translations, certified by an Embassy.
Thailand tourist visas are valid for entry within 90 or 180 days from the date the visa is issued, the duration of stay of each visit is limited to sixty (60) days or otherwise as allowed by the Thai Immigration Officer upon arrival at the Kingdom of Thailand.
Thailand tourist visa fees for citizens of Fiji
Type of visa

Validity

Maximum validity refers to the period over which you are allowed to enter a given country. Validity of visa starts from the date of issuance of visa.

Processing

Processing times start on the next business day following submission and serve as indications of processing times under normal circumstances only.

Embassy fee

A nominal money order fee of $5.00 will be added to the Embassy Fee as this consulate only accepts money orders as mode of payment

Service fee
Total cost

Single entry

up to 3 months
10-15 business days
40.00
159.00
199.00

Multiple Entry

up to 6 months
10-15 business days
200.00
159.00
359.00
Validity: up to 3 months
Processing: 10-15 business days
Total cost: 199.00

Cost calculation

Embassy fee:

40.00

Processing:

159.00

:

0.00

Total cost: 199.00
Validity: up to 6 months
Processing: 10-15 business days
Total cost: 359.00

Cost calculation

Embassy fee:

200.00

Processing:

159.00

:

0.00

Total cost: 359.00
Thailand visa for citizens of Fiji is required. For more information please contact the nearest
Thailand embassy
.
COVID-19 / Health Insurance for travel to Thailand
Your documents
are safe with VisaHQ
All passports are
covered for up to
500
We take our job seriously. All passports that are submitted to VisaHQ for processing are covered for up to $500 against any loss or damage. If you choose FedEx when applying online, we will even cover your passport in transit to us and from us to you.
Your peace of mind is our greatest reward
Find us near you
To apply for Thailand visa in
Thailand visa information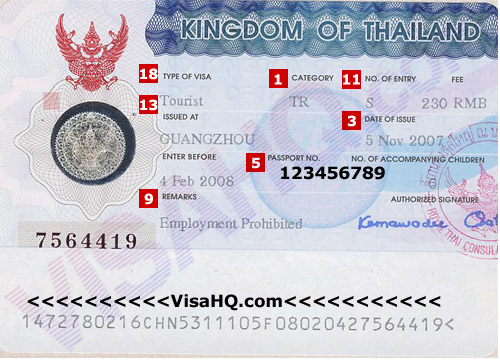 1
Thailand Visa category as defined by Thailand Embassy.
3
Thailand Visa issue date (format might be different from MM-DD-YYYY).
5
Traveler's passport number.
11
Number of allowed entries to Thailand (subject to visa validity dates).
13
Thailand Consulate that issued a visa.
18
Purpose of entry to Thailand (type of Thailand visa)
Frequently Asked Questions about Thailand visa
Work visa. What is the process and how does the visa and work permit process proceed? Which documents are needed and do I need a Thai sponsor for my visa?

If you wish to work in Thailand, a non immigrant business visa should be applied for from your home country before traveling to Thailand. Documents may be provided by your prospective employer or sponsor in Thailand. Once the visa has been issued the work permit can then be applied for and processed.

Can all nationalities submit application for Thai visa by post?

Nationalities and passport holders of the following countries must apply for visa in person only, and present original resident alien card or US visa:
Nigeria, Central African Republic, Cameroon, Republic of the Congo, Democratic Republic of the Congo, Equatorial Guinea, Guinea, Ghana, Liberia, São Tomé and Príncipe, Sierra Leone, Somalia, and Sudan.

Do I need a visa to visit USA from Thailand?

Thai Visas for Americans. U.S. citizens carrying a tourist passport and in possession of an onward or return airline ticket do not require a visa to enter Thailand. The passport must have at least six months validity remaining to be allowed entry.

Can I get a tourist visa if I am unemployed?

Employment status does not feature in applications for a tourist visa. Even if you are unemployed but have enough money to sustain your trip ( in the bank, mostly 6 month documentation) and can show evidence that you are going to come back(return air tickets) then you can get a tourist visa for almost everywhere.

How many days can a tourist stay in Thailand?

You can stay up to 60 days on your Thailand Holiday Visa. You may apply for 2 or 3 entries and each entry allows you to stay up to 60 days, however, you must leave the country and re-enter to go on to your next entry. Please, follow our website to know about all the updates.
Location

95 Wireless Road

Bangkok 10330,

Thailand

Location

387 Witchayanond Road

Chiang Mai 50300,

Thailand
United States of America Embassy list in Thailand
Thailand Customs
Import Regulations
Export Regulations
Health and Security
Contact Customs Authorities
For over 20 year olds:


Tobacco products 200 cigarettes or 250g cigars 250g of tobacco
Alcoholic beverages 1L of alcohol
Gifts Non-commercial amount of gifts and other items for personal use of up to 10,000 local currency (Baht)
Narcotics and other controlled substances
Pornography
Counterfeit items
Goods with Thai flag on them
Fake Royal or other Official seals
Copyright infringing items
Local currency
Narcotics
Pornography
Counterfeit items
Goods with Thai flag
Fake Royal or other Official seals
Basic health information for travelers to Thailand
Dengue fever, Malaria, Cholera and Dengue fever are present in this country preventive inoculation and every precaution needs to be taken in order to avoid infection.
All travellers should seek medical advice before travelling to the country and ensure that all appropriate vaccinations are up to date.
Basic security information for travelers to Thailand
The political situation in Thailand is unpredictable and sometimes volatile. Political protests can turn violent unpredictably in any country and should be carefully avoided if occurring during the course of a visit to the surrounding area.
Owing to the high risk of terrorism and general acts of violence, travellers are strongly advised to consider their personal safety if deciding to visit Bangkok and around Chiang Mai. Travellers to Thailand should note the continued state of tensions and potential for armed conflict and check the current state of political tensions before travelling to the country.
Acts of theft and violent crime are a serious danger to any travellers visiting the country and various precautions should be taken. All visitors are strongly advised to keep their passport and other valuables in a safe location at all times throughout their visit and to avoid obvious displays of wealth in public which could attract unwanted attention. Travellers should also keep a copy of their passport with them for identification by the countries authorities or in the case of an emergency.
Thai Customs contact information
For further assistance please contact the Thai Customs authorities directly. They will provide the latest information about customs regulations and export-import procedures.


Address The Customs Department
1 Sunthornkosa Road, Klong Toey
Bangkok, 10110
THAILAND

Phone

+66026677100
For additional information about travel restrictions, security warnings, political updates, and basic travel guidelines, please contact the nearest Thai Embassy.