Apply online
Visit our office
Mail documents
We prepare your documents and application
Receive visas
Submit application in person
Expert in Vietnam visa services since 2003,
VisaHQ is a private visa agency, not affiliated with the government of Vietnam. VisaHQ provides
expediting services
error-proofing your application
hand-carry delivery to Consulate
real-time status updates
dedicated call center
for visa to Vietnam and charges a service fee. See how we compare in the 90 seconds
video
Holders of the new Vietnam e-Visas will be allowed to arrive into Vietnam through any of the eight international airports including Hanoi City, Ho Chi Minh City, Da Nang City, Nha Trang City, Hai Phong City and Phu Quoc Island or through any of the 13 international land border crossings.
Fill out Vietnam tourist e-visa application form online
and provide digital copies of the following documents:
a
Scanned copy of United States of America passport. A clear scan of the information pages of your valid, signed .
b
Passport-type photograph: must be uploaded to your applicant profile.
Vietnam tourist e-visa fees for citizens of United States of America
Type of visa

Validity

Maximum validity refers to the period over which you are allowed to enter a given country. Validity of visa starts from the date of issuance of visa.

Processing

Processing times start on the next business day following submission and serve as indications of processing times under normal circumstances only.

Embassy fee

Service fee
Total cost

Single entry

up to 1 month
3 business days
26.00
59.00
85.00
Validity: up to 1 month
Processing: 3 business days
Total cost: 85.00

Cost calculation

Embassy fee:

26.00

Processing:

59.00

:

0.00

Total cost: 85.00
Maximum stay in Vietnam:
30 days

Maximum stay refers to the number of days allowed on a single visit.
Maximum stay in Vietnam: 30 days

Maximum stay refers to the number of days allowed on a single visit.
Vietnam visa for citizens of United States of America is required. For more information please contact the nearest
Vietnam embassy
.
Your documents
are safe with VisaHQ
All passports are
covered for up to
500
We take our job seriously. All passports that are submitted to VisaHQ for processing are covered for up to $500 against any loss or damage. If you choose FedEx when applying online, we will even cover your passport in transit to us and from us to you.
Your peace of mind is our greatest reward
Find us near you
To apply for Vietnam visa in
Vietnam visa information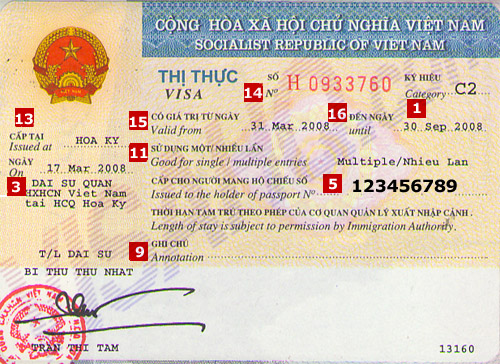 1
Vietnam Visa category as defined by Vietnam Embassy.
3
Vietnam Visa issue date (format might be different from MM-DD-YYYY).
5
Traveler's passport number.
11
Number of allowed entries to Vietnam (subject to visa validity dates).
13
Vietnam Consulate that issued a visa.
15
Date of entry to Vietnam (format might be different from MM-DD-YYYY).
16
Date of Vietnam visa expiration
Frequently Asked Questions about Vietnam visa
A Vietnam visa is a stamp or endorsement placed by officials of Vietnam on a passport that allows the bearer to visit Vietnam. Visas are obtained from the Embassy or consulates of Vietnam for your visit.

Do I need a Vietnam visa?

All US Citizens require a visa and a US passport to travel to Vietnam, whether for business or tourism. MOST foreign nationals require a visa. We, at VisaHQ can help you to obtain a visa.

What if my passport has expired?

To apply for a visa to Vietnam, your passport must have at least 6 month's validity. Therefore, if your passport is about to expire, please get a new one before applying for your visa in order to avoid unwanted problems at the airport.

How long does it take to obtain a Vietnam visa?

Typically, a visa takes anywhere from 2 days to 15+ days to process in the Vietnam Embassy/Consulate depending on the consulate that we need to send the application. Please be advised that processing times may vary from jurisdiction to jurisdiction. VisaHQ continuously updates processing times for all countries

What if I change my flight and arrive at another airport in Vietnam?

Visa on arrival works if you arrive at any of the three international airports: Tan Son Nhat (in Ho Chi Minh City); Noi Bai (in Hanoi), Da Nang (in Da Nang) and Nha Trang City - Cam Ranh Airport . There is no problem with switching between these three airports.
Location

7 Lang Ha Street

Hanoi, Vietnam

Consulate in

Ho Chi Minh City

Location

4 Le Duan Blvd., District 1

Ho Chi Minh City,

Vietnam
United States of America Embassy list in Vietnam
Vietnam Customs
Import Regulations
Export Regulations
Health and Security
Contact Customs Authorities
For 18 years old and over:


Tobacco products 400 cigarettes or 100 cigars or 50g of tobacco
Alcoholic beverages 1,5L of spirits or 2L of alcohol containing up to 22% volume of alcohol or 3L of beer (or similar light alcoholic beverages)
Gifts Non-commercial amount of gifts and unused items of up to the value of VND 5,000,000
Food3Kg of coffee;
5Kg of tea
Items for personal use(clothing, toiletries etc.)
Narcotics
Pornography
Counterfeit items
Cultural artefacts and other objects of cultural importance
Explosive material
Narcotics
Pornography
Counterfeit items
Cultural artefacts and other objects of cultural importance
Explosive material
Basic health information for travelers to Vietnam
The overall standard of available healthcare is considered to be reasonable throughout Vietnam and the surrounding area but will likely become more limited and basic in more rural areas. Most pharmacies inside the country are well stocked but all travellers to the region are still advised to bring along any specially required medicine in the event of an emergency.
Japanese Encephalitis, rabies and Avian Influenza (Brid Flu) have been reported in Vietnam. Malaria is common in urban areas of Vietnam.
A clear copy of the prescription and the reason for the medicine is advised for taking the drugs into the country through customs safely.
All travellers should seek medical advice before travelling to the country and ensure that all appropriate vaccinations are up to date.
Basic security information for travelers to Vietnam
The general precaution is required; however there is no outstanding disease threat in the country.
Vietnamese Customs contact information
For further assistance please contact the Vietnamese Customs authorities directly. They will provide the latest information about customs regulations and export-import procedures.


Address No 162
Nguyen Van Cu street
Long Bien district
Hanoi Capital
Vietnam

Phone

+84444520424
For additional information about travel restrictions, security warnings, political updates, and basic travel guidelines, please contact the nearest Vietnamese Embassy.