Apply online
Visit our office
Mail documents
We prepare your documents and application
Receive visas
Submit application in person
Expert in Malaysia visa services since 2003,
VisaHQ is a private visa agency, not affiliated with the government of Malaysia. VisaHQ provides
expediting services
for visa to Malaysia and charges a service fee. See how we compare in the 90 seconds
video

Malaysia
Visa

for Djibouti passport holder living in United States of America
Select the type of Malaysia tourist visa application:
and send the following documents to VisaHQ:
a
Malaysia visa application form. For online orders, please download, print and sign Malaysia visa application, prepared by our system under your account.
b
Original, signed Djibouti passport with at least 6 months of remaining validity.
c
Passport Photo: 2 Include a passport style photo, with a white background, taken within the last 6 months. You may also choose to upload a photo to your order for us to print. There is a surcharge associated with this service.
d
Proof of status. Copy of Green Card (both sides) or other proof of legal status in the US (such as copy of I-20, US visa, H1B approval notice, etc. VisaHQ cannot assist US B1/B2 visa holders at this time.)

e
Itinerary. Copy of round trip tickets or detailed itinerary for the duration of the trip (Applicant's name must be on itinerary).

f
Itinerary. For multiple entry requests you must submit a copy of your e-ticket or confirmed itinerary showing more than one entry into Malaysia.

g
Bank statement. Copy of the applicant's most recent monthly bank statement. The statement must clearly show the applicant's name as the account holder, the balances of the accounts, and the date of the statement.

h
Employment Letter. An employment verification letter from applicant's employer on business letterhead, with contact details, stating that a leave of absence has been granted, purpose and duration of the trip, and that you will be returning to your current job. If you are self-employed, include a copy of your business license and tax return. For students, please submit an official letter from your school indicating that you are in good standing and that you are registered for the upcoming semester. If you are retired please submit proof of your retirement fund.

i
Hotel Reservations. Copy of confirmed hotel reservations (Applicant's name must be on Hotel Reservation).

j
Personal Invitation. If visiting friends or family, you must provide letter of invitation with the contact information of the host and visitor, purpose and duration of the visit, confirmation of accommodation including the address, signature and date. You will also need to provide proof of the host's status in Malaysia ie. copy of their Malaysia passport's information page, or, if they are not a citizen of Malaysia, copies of their Malaysia residence permit and their national passport's information pages.

Additional required documents for minors
Additional required documents for minors (under 18):
• Letter of authorization. A notarized letter of authorization signed by both parents or a legal guardian. .
• Parents' passport copies. A copy of the information pages of both parents' signed passports.

Malaysia tourist visa fees for citizens of Djibouti
| Type of visa | Validity | Processing | Embassy fee | Service fee | Total cost |
| --- | --- | --- | --- | --- | --- |
| Single entry | up to 3 months | 4 business days | 10.00 | 139.00 | 149.00 |
| Multiple entry | up to 3 months | 4 business days | 10.00 | 139.00 | 149.00 |
Validity: up to 3 months
Processing: 4 business days
Total cost:
Validity: up to 3 months
Processing: 4 business days
Total cost:
Maximum stay in Malaysia: 30 days

Maximum stay in Malaysia: 30 days

Malaysia visa for citizens of Djibouti is required. For more information please contact the nearest
Malaysia embassy
.
Your documents
are safe with VisaHQ
All passports are
covered for up to
500
We take our job seriously. All passports that are submitted to VisaHQ for processing are covered for up to $500 against any loss or damage. If you choose FedEx when applying online, we will even cover your passport in transit to us and from us to you.
Your peace of mind is our greatest reward
Find us near you
To apply for Malaysia visa in
Malaysia visa information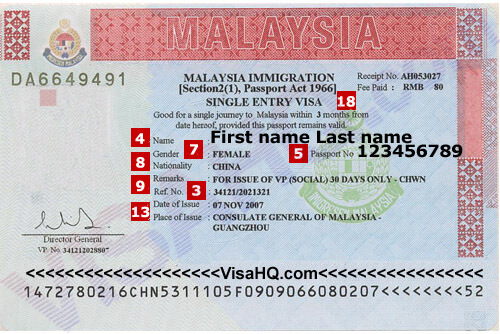 3
Malaysia Visa issue date (format might be different from MM-DD-YYYY).
4
Name of Malaysia visa holder
5
Traveler's passport number.
13
Malaysia Consulate that issued a visa.
18
Purpose of entry to Malaysia (type of Malaysia visa)