Apply online
Visit our office
Mail documents
We prepare your documents and application
Receive visas
Submit application in person
Expert in Ghana visa services since 2003,
VisaHQ is a private visa agency, not affiliated with the government of Ghana. VisaHQ provides
expediting services
for visa to Ghana and charges a service fee. See how we compare in the 90 seconds
video
For faster processing options please select the tourist (rush) tab or ask our team for more information.
Select the type of Ghana tourist visa application:
and send the following documents to VisaHQ:
a
Ghana visa application form. For online orders, please download, print and sign Ghana visa application, prepared by our system under your account.
b
Original, signed United States of America passport with at least 6 months of remaining validity.
c
Passport Photo: 2 Include a passport style photo, with a white background, taken within the last 6 months. You may also choose to upload a photo to your order for us to print. There is a surcharge associated with this service.
d
Itinerary. Copy of round trip tickets or detailed itinerary for the duration of the trip (Applicant's name must be on itinerary).

The Embassy of Ghana is CLOSED every Friday.
All persons entering Ghana are requested to have a valid certificate of immunization against yellow fever. Travelers may be required to present it at the port of entry in Ghana.
Additional required documents for minors
• Birth certificate. A copy of the applicant's birth certificate.
• Letter of Consent. A Notarized Letter of Consent signed by both parents.
• Parent's IDs. Copy of Parent's IDs (Driver's License, etc).


Ghana tourist visa fees for citizens of United States of America
| Type of visa | Validity | Processing | Embassy fee | Service fee | Total cost |
| --- | --- | --- | --- | --- | --- |
| Single entry | up to 3 months | 6-8 business days | 60.00 | 99.00 | 159.00 |
| Multiple entry | up to 5 years | 6-8 business days | 100.00 | 99.00 | 199.00 |
Validity: up to 3 months
Processing: 6-8 business days
Total cost:
Validity: up to 5 years
Processing: 6-8 business days
Total cost:
Ghana visa for citizens of United States of America is required. For more information please contact the nearest
Ghana embassy
.
Your documents
are safe with VisaHQ
All passports are
covered for up to
500
We take our job seriously. All passports that are submitted to VisaHQ for processing are covered for up to $500 against any loss or damage. If you choose FedEx when applying online, we will even cover your passport in transit to us and from us to you.
Your peace of mind is our greatest reward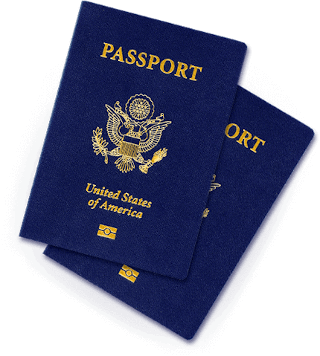 Find us near you
To apply for Ghana visa in
Ghana visa information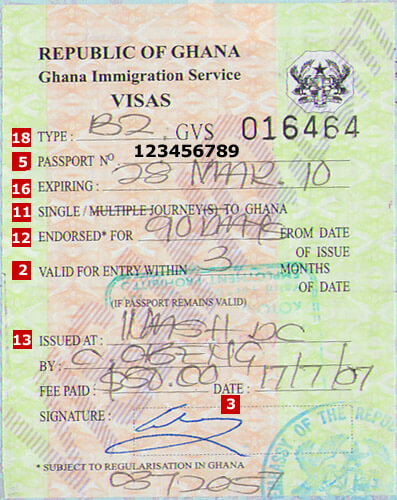 3
Ghana Visa issue date (format might be different from MM-DD-YYYY).
5
Traveler's passport number.
11
Number of allowed entries to Ghana (subject to visa validity dates).
12
Maximum duration of stay in Ghana per each entry.
13
Ghana Consulate that issued a visa.
16
Date of Ghana visa expiration
18
Purpose of entry to Ghana (type of Ghana visa)
Frequently Asked Questions about Ghana visa
Does the visa issued indicate the duration of stay in Ghana?

An Entry Visa will be issued to you but your duration of stay is determined by an Immigration officer at your port of entry to Ghana.

Do I need Visa as Ghanaian Naturalized U.S Citizen but still have Valid Ghana Passport?

Yes, unless you have dual citizenship card.

In what languages can I fill in my application?

Visa application forms completed in English only.

Is Embassy open on holidays?

NO, please mind that embassy observes all public holidays in Ghana and Federal holidays in the United States. Plan accordingly.

Do US citizens need a visa for Ghana?

All US Citizens require a visa and a US passport to travel to Ghana, whether for business or tourism. MOST foreign nationals require a visa.
Location

No. 24, Fourth Circular Rd.,

Cantonments, Accra

P.O. Box GP 2288

Accra

Ghana
United States of America Embassy list in Ghana
Ghana Customs
Import Regulations
Export Regulations
Health and Security
Contact Customs Authorities
Tobacco products 400 cigarettes
100 cigars
1 pound of tobacco
Combination of above proportionate quantities

Alcoholic beverages 1 Quart of wine
1 Quart of spirits

Perfume - Half pint of perfume
There is a limit of 1,000 Ghanaian Cedi-GHS local currency which can be legally exported out of the country. Foreign currency equalling 5000USD can also be exported from the country.
All travellers embarking in Ghana will need to pay a 50 USD Passenger service charge for international flights and a 1 GHS for a domestic flight.
Illegal drugs
Weapons, Explosives and Ammunition – unless permission has been obtained
Knives and deadly weapons
Counterfeit money
Pornographic material
Diseased animals and animal carcasses
Plants and seeds – unless permission has been obtained
Foreign soil
Illegal or unauthorized drugs
Weapons, Explosives and Ammunition – unless permitted to do so
Knives and other deadly weapons
Pornographic material
Parrots
There is an additional export charge on any Coca Beans or Hydrocarbon oils being exported out of the country.
Travellers planning on exporting items via duty free will have to complete a EUR1 document if returning to any EU country.
Basic health information for travelers to Ghana
A yellow fever vaccination is required by all travellers visiting the country. Milk and other dairy products should be avoided unless pasteurised first and tinned milk advised.
All fish, meat and vegetables should be well cooked and served hot. Fruit should be peeled before being eaten and meals involving poultry products should be treated with caution owing to recent cases of bird flu in the country. Any food or drink served from vendors should be avoided for health reasons.
Recent outbreaks of Cholera have been reported in rural areas and travellers should obtain the necessary vaccinations prior to beginning their journey.
Water based diseases are common throughout the country including Hepatitis A,C, Bilharzia (schistosomiasis) and Typhoid and travellers should take make sure that they have obtained all the required vaccinations to these and other diseases prior to arriving in the country and to avoid contaminated food and water sources.
Tuberculosis is highly endemic in Ghana and travellers should take if spending a long period of time in the country and seek medical advice if symptoms develop. Cases of Malaria and Dengue Fever have also been reported in the country and travellers are advised to obtain plenty of insect repellent and close clothing for protection and to seek out immediate medical attention if symptoms develop.
HIV/Aids are endemic in this country and all travellers should take great care when dealing with bloody needles or if engaging in sexual activity during their visit to the country. There is an outside chance of Rabies in the region from infected dog or cats bites. Travellers are strongly advised against confronting wild animals and to clean the wound and seek immediate medical advice if bitten.
Overall medical assistance is available in the major towns and cities but maybe extremely limited outside major urban areas. Important medication may prove expensive or impossible to obtain and travellers requiring certain medicines are advised to take along plenty of well labelled supplies to last the duration of their visit. Travellers visiting Ghana should obtain complete travel and health insurance before beginning their journey and may require evacuation to a nearby country in the event of serious illness or injury.
Basic security information for travelers to Ghana
Although relatively safe, travellers to Ghana are advised to take care when visiting Accra and other major urban areas. Incidents of violent theft and assault have been reported in the country and travellers should keep their passport and other valuable items in a safe location for the duration of their visit. Public displays of wealth could attract unwanted attention and should be avoided where possible. Female travellers in particular should avoid journeying around the country after dark alone and drivers should take care to avoid travelling around the country during the night where the possibility of accidents or serious crime may increase.
There has been a significant amount of inter ethnic and civil unrest in several regions of the country in recent years, especially in the Northern, Upper East and Volta Regions. Travellers to Ghana are strongly advised to avoid any large gatherings or rallies which could easily turn violent and to obtain relevant information regarding the current political climate in the region you are visiting prior to your arrival in the country.
Travellers planning to drive around Ghana will need to acquire an international drivers permit and keep a copy of their passport with them at all times. Primary roads in the cities may be in reasonable condition but will likely deteriorate and become treacherous elsewhere in the country. Travellers should take care to adapt to the potentially dangerous road conditions in the country before beginning any long journeys and to avoid driving late at night down poorly lit roads.
The rainy season in Ghana falls between March and November and can cause much loss of live and property. Travellers are advised to take care if visiting the country during this period and to check the safety of the local roads which may be severely disrupted by the constant downpours.
Travellers to the country should respect all local customs and dress codes and avoid behaviour deliberately designed to cause offence. Beachwear should be kept to the beach and all travellers should wear clothing that does not attract any unwanted attention. No civilian may wear camouflage clothing as it is reserved for the military and photographs of important government or military facilities are prohibited and can be removed and destroyed by the security services. Travellers should also remember to ask permission before taking any photographs of local buildings or people.
Homosexuality is illegal in this country and public displays of affection by same sex couples are not advised.
Ghanaian Customs contact information
For further assistance please contact the Ghanaian Customs authorities directly. They will provide the latest information about customs regulations and export-import procedures.


Address 6th Floor, Heritage Tower
6th Avenue, West Ridge
PMB, TUC Post Office,
Accra
Ghana

Phone

+2330302686106

+2330302684363
For additional information about travel restrictions, security warnings, political updates, and basic travel guidelines, please contact the nearest Ghanaian Embassy.