Apply online
Visit our office
Mail documents
We prepare your documents and application
Receive visas
Submit application in person
Expert in Suriname visa services since 2003,
VisaHQ is a private visa agency, not affiliated with the government of Suriname. VisaHQ provides
expediting services
for visa to Suriname and charges a service fee. See how we compare in the 90 seconds
video

Suriname
Visa
and provide digital copies of the following documents:
a
Scanned copy of United States of America passport. A clear scan of the cover page and bio page of your valid, signed passport. Your passport must be valid for at least 6 months from the date of arrival and have at least 2 page available for the entry stamp of the Immigration department.
b
Passport-type photograph: photograph size 3x4 cm, must be uploaded to your applicant profile.
c
Itinerary. Copy of flight / travel itinerary (departure and return).

d
Accomodation reservation. Copy of hotel / apartment reservation (in case of accomodation at family residence, provide address and tel.no.)

e
Letter of invitation. Letter of invitation of the Guarantor in Suriname.

f
ID card copy. Copy of the ID-card of the guarantor.

g
For minors up to 17 years. The authorization of the parents/legal guardians of the minor.

No documents need to be mailed to VisaHQ for processing. You will receive your visa via e-mail.
Additional Documents for Children

• An authenticated authorization of the parent(s) and a copy of the family book/birth certificate in case of:

- a child (up to 17 years) travelling alone (with legalization)

- a child (up to 17 years) travelling with one of the parents (with consent of the 2nd parent) (with legalization)

• A copy of the judicial decision in case of adoption/legal guardianship of a minor (up to 17 years).

Valid travel insurance/health insurance (you need to submit this document after the MKV has been approved).
Suriname tourist e-visa fees for citizens of United States of America
| Type of visa | Validity | Processing | Embassy fee | Service fee | Total cost |
| --- | --- | --- | --- | --- | --- |
| Multiple entry | up to 5 years (90 days stay) | 3-5 business days | 114.00 | 59.00 | 173.00 |
Validity: up to 5 years
Processing: 3-5 business days
Total cost:
Suriname visa for citizens of United States of America is required. For more information please contact the nearest
Suriname embassy
.
Your documents
are safe with VisaHQ
All passports are
covered for up to
500
We take our job seriously. All passports that are submitted to VisaHQ for processing are covered for up to $500 against any loss or damage. If you choose FedEx when applying online, we will even cover your passport in transit to us and from us to you.
Your peace of mind is our greatest reward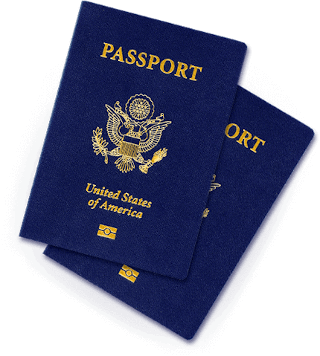 Find us near you
To apply for Suriname visa in