Apply online
Visit our office
Mail documents
We prepare your documents and application
Receive visas
Submit application in person
Expert in Nigeria visa services since 2003,
VisaHQ is a private visa agency, not affiliated with the government of Nigeria. VisaHQ provides
expediting services
error-proofing your application
hand-carry delivery to Consulate
real-time status updates
dedicated call center
for visa to Nigeria and charges a service fee. See how we compare in the 90 seconds
video

Nigeria
Visa
COVID-19 / Health Insurance for travel to Nigeria
The Consulate of Nigeria is not currently processing rush applications.
Fill out Nigeria tourist visa application form online
and send the following documents to VisaHQ:
a
Nigeria visa application form. Completed application form for Nigeria will be prepared within 5 business hours of order submission, and emailed to you to download, print and sign.
b
Original, signed United States of America passport with at least 6 months of remaining validity. A digital copy of the information page of your passport MUST be uploaded upon completion of your order.
c
Passport-type photographs: 2. A digital copy of your photo MUST be uploaded upon completion of your order.
d
Itinerary. Copy of round trip tickets or detailed itinerary for the duration of the trip (Applicant's name must be on itinerary).

e
Bank statement. Copy of the applicant's most recent monthly bank statement. The statement must clearly show the applicant's name as the account holder, the balances of the accounts, and the date of the statement.

f
Hotel Reservations. Copy of confirmed hotel reservations (Applicant's name must be on Hotel Reservation).

g
Personal Invitation. If visiting friends or family, you must provide letter of invitation with the contact information of the host and visitor, purpose and duration of the visit, confirmation of accommodation including the address, signature and date. You will also need to provide proof of the host's status in Nigeria ie. copy of their Nigeria passport's information page, or, if they are not a citizen of Nigeria, copies of their Nigeria residence permit and their national passport's information pages.

h
Host passport. Scanned copies of the passports of the hosts you are visiting in Nigeria

Additional required documents for minors
• Letter of Consent. The form needs to be signed by both parents, notarized and accompanied with the child's birth certificate and copies of both parent's ID.

• Birth Certificate. A copy of the applicant's birth certificate.

• Parents' Passport Copies. A copy of the information pages of both parents' signed passports.

Nigeria visas must be used within 90 days from the date of issuance
Nigeria tourist visa fees for citizens of United States of America
Type of visa

Validity

Maximum validity refers to the period over which you are allowed to enter a given country. Validity of visa starts from the date of issuance of visa.

Processing

Processing times start on the next business day following submission and serve as indications of processing times under normal circumstances only.

Embassy fee

A nominal money order fee of $5.00 will be added to the Embassy Fee as this consulate only accepts money orders as mode of payment

Service fee
Total cost

Multiple entry

up to 2 years
7-10 business days
270.00
149.00
419.00
up to 2 years
3-5 business days
540.00
199.00
739.00
Validity: up to 2 years
Processing: 7-10 business days
Total cost: 419.00

Cost calculation

Embassy fee:

270.00

Processing:

149.00

:

0.00

Total cost: 419.00
Validity: up to 2 years
Processing: 3-5 business days
Total cost: 739.00

Cost calculation

Embassy fee:

540.00

Processing:

199.00

:

0.00

Total cost: 739.00
Maximum stay in Nigeria:
30 days

Maximum stay refers to the number of days allowed on a single visit.
Maximum stay in Nigeria: 30 days

Maximum stay refers to the number of days allowed on a single visit.
Nigeria visa for citizens of United States of America is required. For more information please contact the nearest
Nigeria embassy
.
COVID-19 / Health Insurance for travel to Nigeria
Your documents
are safe with VisaHQ
All passports are
covered for up to
500
We take our job seriously. All passports that are submitted to VisaHQ for processing are covered for up to $500 against any loss or damage. If you choose FedEx when applying online, we will even cover your passport in transit to us and from us to you.
Your peace of mind is our greatest reward
Find us near you
To apply for Nigeria visa in
Nigeria visa information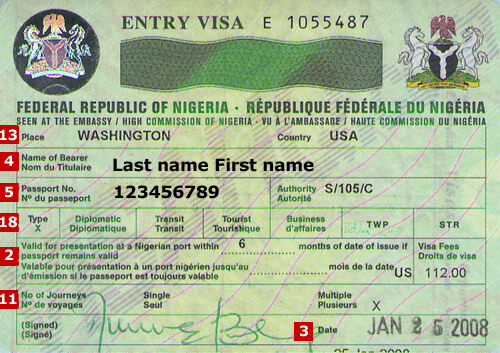 3
Nigeria Visa issue date (format might be different from MM-DD-YYYY).
4
Name of Nigeria visa holder
5
Traveler's passport number.
11
Number of allowed entries to Nigeria (subject to visa validity dates).
13
Nigeria Consulate that issued a visa.
18
Purpose of entry to Nigeria (type of Nigeria visa)
Frequently Asked Questions about Nigeria visa
Do US citizens need a visa for Nigeria?

All US Citizens require a visa and a US passport to travel to Nigeria, whether for business or tourism. MOST foreign nationals require a visa.

How long does a Nigeria Business visa last?

The multiple-entry Business visa to Nigeria is valid for twenty four months from the date of issue but the total period of stay in the country cannot exceed three months.

Should I provide exact date of arrival?

Not necessarily but must be within the date provided in your itinerary.

How long does it take to obtain a Nigeria visa?

Typically, a visa takes anywhere from 2 days to 15+ days to process in the Nigeria Embassy/Consulate depending on the consulate that we need to send the application. The processing time for a visa is dependent on several factors and can change without notice at the consulate's discretion.

A Nigeria visa is a stamp or endorsement placed by officials of Nigeria on a passport that allows the bearer to visit Nigeria. Visas are obtained from the Embassy or consulates of Nigeria for your visit. "Visit" is further defined as the reason for entry, usually business, tourist or transitory. There are over 270 countries that offer visas and literally thousands of different types of visas available based upon country, type of visit, and length of visit.
Location

Plot 1075 Diplomatic Drive

Central District Area

Abuja

Nigeria

Location

2 Walter Carrington Crescent,

Victoria Island

Lagos

Nigeria

Phone

+234-1460-3400

+234-1460-3600
United States of America Embassy list in Nigeria
Nigeria Customs
Import Regulations
Export Regulations
Health and Security
Contact Customs Authorities
Free import by passengers of 18 years of age or over:


Tobacco products 200 cigarettes or 50 medium sized cigars or 200 grammes of tobacco of foreign manufacture; If more is imported, duty is due on the whole quantity;
Alcoholic beverages 1 litre of spirits and 1 litre of wine; if more is imported, duty is due on the whole quantity;
Perfume 284 cu. cm. of perfume or eau-de-Cologne or other perfumed spirits; if more is imported, duty is due on the whole quantity;
Gifts gifts valued up to NGN 300.- (excl. jewelry, photographic equipment, electronics and luxury goods).
All kinds of beer, mineral water and soft drinks;
Sparkling wine (including champagne);
All fruits, vegetables, cereals and eggs either fresh or preserved;
Textile fabrics and mosquito netting;
Jewelry and precious metals.
Free export by passengers of 18 years of age or over:


Tobacco products 200 cigarettes or 50 cigars or 1 lb. of tobacco of foreign manufacture; 200 cigarettes of local manufacture;
Alcoholic beverages 1 bottle of whisky of foreign manufacture.
African ceremonial objects and African antiquities can only be exported with approval of the Department of Antiquities.
Basic health information for travelers to Nigeria
A yellow fever vaccination certificate is required by travellers over one year of age arriving within six days from infected areas. Travellers arriving from non-endemic zones should note that vaccination is strongly recommended for travel outside the urban areas, even if an outbreak of the disease has not been reported and they would normally not require a vaccination certificate to enter the country. The risk of contracting yellow fever is highest in Lagos and Kaduna states. Contact Embassy/High Commission for exact details of vaccination requirements prior to travel.
A cholera vaccination certificate is not a condition of entry to Nigeria. However, evidence of cholera vaccination is required by certain nationals before they may enter the country (check with the nearest Nigerian Embassy) and vaccination is therefore advised. Cholera is a serious risk in this country and precautions are essential. Up-to-date advice should be sought before deciding whether these precautions should include vaccination, as medical opinion is divided over its effectiveness; see the Health appendix for further information.
Polio and typhoid both occur.
Malaria risk exists all year throughout the country. The predominant falciparum strain has been reported to be resistant to chloroquine.
All water should be regarded as being potentially contaminated. Water used for drinking, brushing teeth or making ice should have first been boiled or otherwise sterilised. Milk is unpasteurised and should be boiled. Powdered or tinned milk is available and is advised, but make sure that it is reconstituted with pure water. Avoid dairy products which are likely to have been made from unboiled milk. Only eat well-cooked meat and fish, preferably served hot. Pork, salad and mayonnaise may carry increased risk. Vegetables should be cooked and fruit peeled.
Bilharzia (schistosomiasis) is present. Avoid swimming and paddling in fresh water; swimming pools which are well chlorinated and maintained are safe. Hepatitis A, B, C and E are present; precautions should be taken. Meningococcal meningitis, leishmaniasis, trypanosomiasis and onchocerciasis (river blindness) occur. TB and Dengue fever also occur and HIV is a risk. Rabies is present. For those at high risk, vaccination before arrival should be considered. If you are bitten, seek medical advice without delay. For more information, consult the Health appendix.
The government-provided health care facilities are of a poor standard and are subject to shortages of drugs, equipment, materials and even electricity. It is advisable to take a sufficient supply of drugs or medication to meet personal needs. However, there are some adequate private facilities where the standards approach those of Europe. Doctors and hospitals often expect immediate cash payment for health services. There is no reciprocal health agreement with the UK. Medical insurance is essential.
Basic security information for travelers to Nigeria
There is a high risk of terrorism in Nigeria. All travellers are advised to exercise caution and observe vigilance at all times, particularly in areas where there are political or other large public gatherings. Attacks could be indiscriminate, including government and security institutions, international organisations as well as public areas such as markets, hotels, shopping centres, places of worship and other areas frequented by expatriates and foreign travellers.
Violent street crimes e.g. muggings, kidnappings, car-jackings and especially armed robberies continue at high levels in the south of the country. The prevailing situation even in comparatively safe areas of Lagos can change quickly, with periodic reports of street and car-related crimes.
Nigeria experiences heavy rainfall during the wet season (June - September) and flash flooding can occur. Water-borne disease poses a greater risk during the rainy season; there have been reports of cholera in Oyo State.
Travellers should take extra precautions and avoid crowds when travelling in northern Nigeria. Violence could erupt quickly and without warning.
Nigerian Customs contact information
For further assistance please contact the Nigerian Customs authorities directly. They will provide the latest information about customs regulations and export-import procedures.


Address Nigeria Customs Service Headquarters
Abidjan Street,Wuse,
P.M.B. 26,
Zone 3,
Abuja - FCT
Nigeria

Phone

+23495234694
For additional information about travel restrictions, security warnings, political updates, and basic travel guidelines, please contact the nearest Nigerian Embassy.