Apply online
Visit our office
Mail documents
We prepare your documents and application
Receive visas
Submit application in person
Expert in Malaysia visa services since 2003,
VisaHQ is a private visa agency, not affiliated with the government of Malaysia. VisaHQ provides
expediting services
for visa to Malaysia and charges a service fee. See how we compare in the 90 seconds
video

Malaysia
Visa

for China passport holder living in United States of America
and provide digital copies of the following documents:
a
Scanned copy of China passport. A clear scan of the information pages of your valid, signed passport.
b
Recent passport sized studio photo . Please see photo guidelines
here
.
c
Proof of Status. A copy of evidence proving your legal status in US (US visa, I-20, H1B approval notice). I-20 and DS-2019 forms must be endorsed within the past 3 months by your adviser.

d
Itinerary. A copy of round trip tickets or or confirmed itinerary. If you will be entering and/or exiting Malaysia by land please submit:
• Train or bus tickets showing your entry and exit from Malaysia
OR
• A letter addressed to the "Immigration Officer" explaining exactly how, when, and where you will be entering and leaving Malaysia along with your full itinerary into and out of the region.

e
Proof of Funds. Evidence of financial arrangements made for the duration of your stay in Malaysia.

f
Proof of accommodation. Proof of accommodation (hotel reservation, proof of ownership or rent a house on behalf of applicant) or, if applicable, the commitment of maintenance and accommodation filled and signed by a person from Malaysia.

Malaysia tourist e-visa fees for citizens of China
| Type of visa | Validity | Processing | Embassy fee | Service fee | Total cost |
| --- | --- | --- | --- | --- | --- |
| Single entry | up to 3 months | Next business day | 36.00 | 59.00 | 95.00 |
Validity: up to 3 months
Processing: Next business day
Total cost:
Maximum stay in Malaysia: 15 days

Maximum stay in Malaysia: 15 days

Malaysia visa for citizens of China is required. For more information please contact the nearest
Malaysia embassy
.
Your documents
are safe with VisaHQ
All passports are
covered for up to
500
We take our job seriously. All passports that are submitted to VisaHQ for processing are covered for up to $500 against any loss or damage. If you choose FedEx when applying online, we will even cover your passport in transit to us and from us to you.
Your peace of mind is our greatest reward
Find us near you
To apply for Malaysia visa in
Malaysia visa information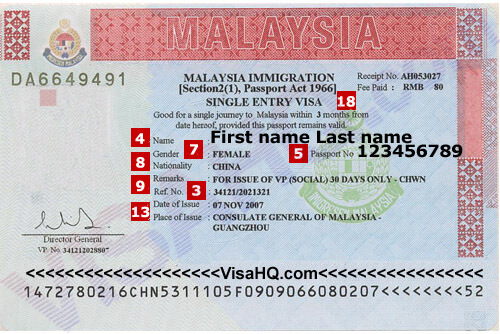 3
Malaysia Visa issue date (format might be different from MM-DD-YYYY).
4
Name of Malaysia visa holder
5
Traveler's passport number.
13
Malaysia Consulate that issued a visa.
18
Purpose of entry to Malaysia (type of Malaysia visa)