Apply online
Visit our office
Mail documents
We prepare your documents and application
Receive visas
Submit application in person
Expert in Kenya visa services since 2003,
VisaHQ is a private visa agency, not affiliated with the government of Kenya. VisaHQ provides
expediting services
for visa to Kenya and charges a service fee. See how we compare in the 90 seconds
video

Kenya
Visa

for Comoros passport holder living in United States of America
Please upload all documents upon completion of your order.
Fill out Kenya tourist e-visa application form online
and provide digital copies of the following documents:
a
Scanned copy of Comoros passport. A clear scan of the information pages of your valid, signed passport.
b
Passport-type photographs: 1. A digital copy of your photo MUST be uploaded upon completion of your order.
c
Itinerary. A reservation of the flight itinerary under the traveler's name. Must show flights entering and exiting Kenya.

d
Hotel Reservations. Copy of confirmed hotel reservations (Applicant's name must be on Hotel Reservation).

Children under 16 years old are exempted from requiring a Kenyan tourist visa and are not required to submit an application.
Kenya tourist e-visa fees for citizens of Comoros
| Type of visa | Validity | Processing | Embassy fee | Service fee | Total cost |
| --- | --- | --- | --- | --- | --- |
| Single entry | up to 3 months | 2-5 business days | 53.00 | 59.00 | 112.00 |
Validity: up to 3 months
Processing: 2-5 business days
Total cost:
Maximum stay in Kenya: 90 days

Maximum stay in Kenya: 90 days

Kenya visa for citizens of Comoros is required. For more information please contact the nearest
Kenya embassy
.
Your documents
are safe with VisaHQ
All passports are
covered for up to
500
We take our job seriously. All passports that are submitted to VisaHQ for processing are covered for up to $500 against any loss or damage. If you choose FedEx when applying online, we will even cover your passport in transit to us and from us to you.
Your peace of mind is our greatest reward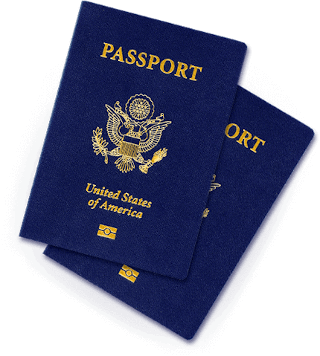 Find us near you
To apply for Kenya visa in
Frequently Asked Questions about Kenya visa
What vaccinations do I need for Kenya?

Yes, some vaccines are recommended or required for Kenya. The CDC and WHO recommend the following vaccines for Kenya: typhoid, hepatitis A, hepatitis B, cholera, yellow fever, rabies, meningitis, and influenza.

Can I get a Kenya visa on arrival?

You need a visa to enter Kenya. You can either get a visa on arrival at the airport, or before you travel. To minimise time spent queuing at the airport, get a visa before you travel.

Do US citizens need a visa for Kenya?

All US Citizens require a visa and a US passport to travel to Kenya, whether for business or tourism. MOST foreign nationals require a visa. We can help you to obtain a visa as well as a US passport.

How long does a Kenya visa last?

A single-entry Kenya visa is valid for three months. It must be activated within six months of the date of issue. The multiple-entry visa to Kenya is valid for twelve months from the date of issue but the total period of stay in the country cannot exceed three months. It is only issued to UK passport holders.

Is yellow fever vaccine required for Kenya?

Country entry requirement: The government of Kenya requires proof of yellow fever vaccination if you are traveling from a country with risk of yellow fever (this does not include the US - for complete list, see Countries with risk of yellow fever virus (YFV) transmission.
United States of America Embassy list in Kenya
United States of America Embassy in Nairobi

Address

United Nations Avenue Nairobi
P. O. Box 606
Village Market
00621 Nairobi,
Kenya

Kenya Customs
Tobacco products200 cigarettes or
50 cigars or
227 grammes of tobacco
Alcoholic beverages 1 bottle of alcohol
Perfume 1 pint of perfume
There is currently no limit on the amount of local and foreign currency that travellers can import into the country. Residents of Kenya are free to import up to 500,000 Kenyan Shillings and an unlimited amount of foreign currency.
The same rules apply for both locals and visitors if exporting currency out of the country although sums equal to USD 500 will need to be declared at the customs department.

Guns, explosives and ammunition – unless permission has been obtained
Illegal drugs
Knives and dangerous hunting weapons
Hazardous materials
Meat and meat products
Plant and plant products – unless permission has been obtained
Soil
Counterfeit money and goods
Pornographic material

Illegal drugs
Guns, explosives and ammunition – unless permission has been obtained
Knives and dangerous hunting weapons
Hazardous materials
Meat and meat products
Plant and plant products – unless permission has been obtained
Soil
Counterfeit money and goods
Pornographic material

Basic health information for travelers to Kenya

A yellow fever vaccination is required from all travellers coming from an infected region. Travellers from other countries are strongly advised to consider obtaining vaccination against the disease prior to entering the country and may not be admitted without one.
Tap and other local water sources should be considered contaminated and thoroughly boiled before being drunk. Travellers are advised to stick to bottled water whenever possible throughout their stay inside the country. Milk and dairy products might be unpasteurised and should be avoided for safety reasons. All meat, fish and vegetables should be well cooked and served boiling hot whilst fruit should be peeled prior to consumption.
Multiple outbreaks of Cholera have been reported throughout Nyanza, Western, Rift Valley, Eastern and North Eastern provinces and travellers should make sure that all water used for personal use is safe from infection. Travellers to Kenya are strongly urged to obtain vaccinations against a wide variety of food and water based diseases including Hepatitis A and E, Polio and Typhoid. Bilharzia (schistosomiasis) is present and all visitors are advised against swimming in any native lakes or other unclean bodies of water.
Malaria has been reported in several sections of the country under 2500m but travellers sticking to Nairobi and the highlands of Central, Eastern, Nyanza, Rift Valley, and Western Provinces should be relatively safe. Malaria is a year round threat but most cases are reported during the countries rainy season. All travellers to the country are strongly advised to obtain appropriate defences against infection and should immediately seek out medical assistance if symptoms develop. Visitors travelling far into the country maybe some distance from the nearest healthcare facility and are recommended to take an extra medical kit in the event of an emergency.
Additional insect based infections present throughout Kenya include visceral leishmaniasis from female sand flies and Rift Valley, Chikungunya and Dengue fever from mosquitoes. Visitors to all sections of the country should obtain all necessary vaccinations prior to entering the country and should wear plenty of insect repellent and tight clothing for protection. Emergency medical assistance in the event of serious symptom developing is advised.
Blood related diseases including HIV and Hepatitis B are endemic to the region and all travellers to the country should exercise great care when dealing with bloody or dirty needles or when engaging in sexual activity during their visit. All travellers staying in the country longer than three months will automatically be required to undergo a HIV test.
Travellers to the country are advised against any contact with wild dogs or other animals whose bites might contain Rabies. If bitten, travellers should immediately clean the wound and seek out medical assistance to check for any signs of infection.
Much of the country is located at a high altitude which could potentially cause health and respiratory problems for travellers unused to these conditions. All visitors to these regions should exercise considerable caution and should slowly move towards a lower altitude if feeling persistently dizzy or light headed and seek out medical assistance if symptoms develop. Sunburn and dehydration are serious dangers in this country and travellers should obtain plenty of bottled water and sunscreen for protection against the often intense heat.
The standard of healthcare is considerably varied throughout the country with decent facilities available in Nairobi and Mombasa but very limited in more remote and poorer regions. Public hospitals may not measure up to their western equivalents and private health facilities are recommended although doctors are likely to demand upfront payment for services rendered.
For a small fee visitors can enjoy membership of the flying doctors' society. This entitles an injured or seriously ill person to free emergency evacuation by air from any part of Kenya to Nairobi and may be useful in the event of an unexpected medical crisis occurring far from any local hospitals. Medicines may be expensive or hard to obtain in this country so all travellers are advised to keep an emergency medical kit with them at all times containing emergency medicines and supplies.
Complete health and travel insurance is strongly recommended and emergency evacuation to a nearby country may be required in the event of a serious accident or illness.

Basic security information for travelers to Kenya

Owing to the higher than average potential for violence from Al-Qaida and other dangerous factions, all travellers to the country are strongly advised to take maximum care throughout their visit and to keep updated regarding any changes to the current social and political situation both inside the country and in the surrounding region. Additionally, the recent political turmoil inside the country has resulted in substantial loss of life and high levels of unemployment and street crime so travellers should keep a close eye on their belongings at all times throughout their visit.
Since April 2011, the Kenyan authorities have moved to a heightened state of alert with visible signs or armed security at many public and important locations throughout the country. Al-Qaida and other terrorist groups have warned of potential attacks against the country and all foreigners staying in popular tourist locations should exercise a high degree of caution at all times throughout their visit. Kidnappings and random bomb attacks are not unheard of throughout Kenya. Travellers should be particularly vigilant in the lead-up to and during religious festivals and days of national significance as militants have used such occasions to mount attacks.
Violent crime and theft are a serious risk inside this country and travellers should take great care when visiting this country. All passports and valuable items should be kept in a safe location at all times and obvious displays of wealth could serve to attract unwanted attention and could lead to trouble. Female travellers in particular should avoid walking alone after dark down badly lit streets and all travellers should avoid shantytowns or other poor sections of the country where violence may be rife. Incidents of drugging and kidnappings have been recorded and all foreign visitors should refuse random drinks bought from them and remain cautious at all times during their visit.
Travel to the border with Somalia is strongly advised against due to recent fighting between the government and Somali based militants who have declared a jihad against Somalia and other local countries throughout the region.
Following recent parliamentary and presidential elections, ethnic and politically based violence erupted throughout the entire country with over one thousand people being killed and more than 300,000 displaced from their homes. Although the political situation has been officially resolved, tensions remain high and the potential for renewed hostilities is considerable. All visitors to the country should avoid any large protests or gatherings which could quickly turn unpredictable and violent without warning and should remain updated regarding the countries current political situation both prior to and throughout the course of their visit.
Foreign visitors planning on driving throughout Kenya can do so on a clean UK driving licence for up to three months but will need to obtain a local one for longer stays. Local road conditions are considered poor outside the major cities and all travel after dark is not advised owing to the often poorly lit roads and less than excellent standards of the roads. Carjacking and banditry are common crimes throughout Kenya and travellers should keep their car locked and secure at all times and keep a copy of their passport with them in the event of an accident or emergency.
According to the UK Foreign Commonwealth Office, "Rural areas, and in particular the arid north and north eastern parts of Kenya experience sporadic cattle rustling, banditry and ethnic clashes which regularly cause fatalities. Whilst foreigners are not usually the targets of localised violence and banditry, travel in the north and north east should only be undertaken with care and after seeking the advice of the police and in convoy with at least two vehicles to ensure back-up". Inhabitants living in Rural areas maybe generally distrusting of all foreign visitors who should take great pains to avoid committing any crime or indiscretion which could lead to trouble.
Heavy rain may cause many roads to become hazardous or impassable and all travellers visiting the country during this period should check with local authorities that their intended route is still safe and open.
Any visitors planning on visiting the countries national parks should exercise considerable caution around the wild animals, many of which are capable of maiming or killing unwary travellers with ease. All animal bites should immediately be checked for signs of Rabies and swimming in local water should not be attempted thanks to the high number of water based diseases present throughout the entire country.
Kenya is in a seismically active zone and travellers should immediately contact their nearest embassy in the event of a serious Earthquake occurring during their visit. Flash flooding is common during the countries rainy seasons which usually last between October and November and from March to June. All foreign visitors should check the countries predicted weather conditions whilst inside the country and plan their visit accordingly.
Photos of important government, military and religious sites are banned and can be legally removed by the security services. Pictures taken of local everyday inhabitants may cause unease and permission should always be requested beforehand out of common decency.
Kenya is a largely traditional Muslim country and overt displays of affection in public are not encouraged. All visitors to the region should dress respectfully at all times and women in particular should wear conservative clothing in public. Foreign visitors inside the country during Ramadan are urged to avoid drink or eating in public throughout the day. Drug related crimes are heavily punished in Kenya and local prisons may be harsher than some travellers are used to. Smoking in public places and Homosexuality are both illegal in this country.

Contact Customs Authorities

For further assistance please contact the Kenyan Customs authorities directly. They will provide the latest information about customs regulations and export-import procedures.

Kenyan Customs contact information

Address

P.O.BOX 48240 - 00100 GPO Nairobi
Nairobi


Phone

+25420310900
+254202810000

For additional information about travel restrictions, security warnings, political updates, and basic travel guidelines, please contact the nearest Kenyan Embassy.