Mail documents
We prepare your documents and application
Receive visas
Submit application in person
Expert in Italy visa services since 2003,
VisaHQ is a private visa agency, not affiliated with the government of Italy. VisaHQ provides
expediting services
for visa to Italy and charges a service fee. See how we compare in the 90 seconds
video

Italy
Visa

for British Virgin Islands passport holder living in United States of America
For Italy visas VisaHQ provides consultancy and document review only. The applicant must reserve an appointment and appear in person at the nearest Consulate of Italy to have their fingerprints registered.

Travelers are advised to consult current appointment availability prior to committing any travel plans as waiting times remain in excess of a month in some jurisdictions.
Fill out Italy tourist visa application form online & Apply In Person
and provide digital copies of the following documents:
a
b
Copy of British Virgin Islands passport. A copy of the information pages of your valid, signed British Virgin Islands passport with at least 1 year of remaining validity. Please do NOT send your original passport.
c
Passport Photo: 2 Include a passport style photo, with a white background, taken within the last 6 months. You may also choose to upload a photo to your order for us to print. There is a surcharge associated with this service.
d
Embassy Fee. An Embassy fee of 60 Euros must be paid at the time of appointment.

e
Proof of Status. Original and one copy of Green Card, or US resident visa & I-20, I-797, etc. Must be valid for at least 90 days beyond the intended departure from the Schengen Area. VisaHQ cannot assist US B1/B2 visa holders at this time.

f
Driver's license. Driver's license. Original and one copy of driver's license or state-issued ID.

g
Itinerary. Proof of group travel, hotel reservations, and airline reservations.

h
Medical Insurance. Copy of international health insurance specifically covering the territory of the European Union and indicating the validity of this coverage (with a minimum medical coverage of EUR 30,000). The policy should cover all expenses for repatriation, emergency medical aid, and hospital treatment for the period of stay.

i
Bank Statements. Original and one copy of bank statements from the past three months.

j
Employment Letter. A reference letter from your employer.

k
Visa Copies. Copies of any visas needed for the current trip.

l
Previous Visas. Copies of any previously-issued Schengen visas.

Additional documents for minors (under the age of 18):

• An original notarized Letter of Consent signed by both parents, authorizing travel to destination country + Copy.
• OR Decision of the Court depriving of the parental rights of one of the parents + Copy
• OR Death certificate of one of the parents + Copy
Italy tourist visa fees for citizens of British Virgin Islands
| Type of visa | Validity | Our service | Service fee | Total cost |
| --- | --- | --- | --- | --- |
| Schengen visa | up to 3 months | 2-3 weeks after appointment | 99.00 | 99.00 |
Validity: up to 3 months
Processing: 2-3 weeks after appointment
Total cost:
Maximum stay in Italy: 90 days

Maximum stay in Italy: 90 days

Note: Validity is at the discretion of the Consulate.
Italy visa for citizens of British Virgin Islands is required. For more information please contact the nearest
Italy embassy
.
Your documents
are safe with VisaHQ
All passports are
covered for up to
500
We take our job seriously. All passports that are submitted to VisaHQ for processing are covered for up to $500 against any loss or damage. If you choose FedEx when applying online, we will even cover your passport in transit to us and from us to you.
Your peace of mind is our greatest reward
Italy visa information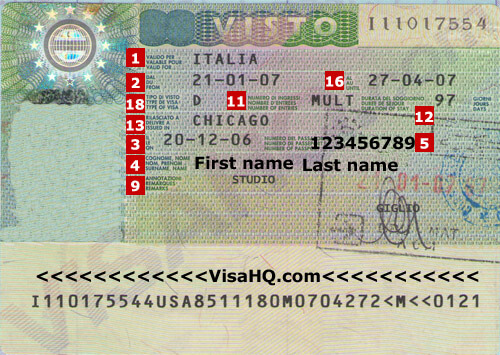 1
Italy Visa category as defined by Italy Embassy.
3
Italy Visa issue date (format might be different from MM-DD-YYYY).
4
Name of Italy visa holder
5
Traveler's passport number.
11
Number of allowed entries to Italy (subject to visa validity dates).
12
Maximum duration of stay in Italy per each entry.
13
Italy Consulate that issued a visa.
16
Date of Italy visa expiration
18
Purpose of entry to Italy (type of Italy visa)