Apply online
Visit our office
Mail documents
We prepare your documents and application
Receive visas
Submit application in person
Expert in Australia visa services since 2003,
VisaHQ is a private visa agency, not affiliated with the government of Australia. VisaHQ provides
expediting services
for visa to Australia and charges a service fee. See how we compare in the 90 seconds
video
and provide digital copies of the following documents:
a
Notarized copy of Croatia passport. A NOTARIZED copy of your valid, signed Croatia passport with at least 6 months validity. Please do NOT send your original passport.
b
Passport Photo: 1 Include a passport style photo, with a white background, taken within the last 6 months. You may also choose to upload a photo to your order for us to print. There is a surcharge associated with this service.
c
Proof of Status. Copy of Green Card or other proof of legal status in the US (such as copy of I-20, DS-2019, H1B approval notice, etc.)

d
Itinerary. Copy of an itinerary or flight reservation from an airline or travel agent. Please do not purchase tickets until the visa has been issued.

e
Polio Vaccination. If the applicant has spent 28 days or more in Afghanistan, Cameroon, Equatorial Guinea, Ethiopia, Iraq, Nigeria, Pakistan, Somalia or Syria after May 5th 2014, the applicant must provide a polio vaccination certificate.

f
Bank statement. Copy of the applicant's most recent monthly bank statement. The statement must clearly show the applicant's name as the account holder, the balances of the accounts, and the date of the statement.

g
Employment Letter. Copy of a letter from your employer on business letterhead, with contact details, stating that a leave of absence has been granted, purpose and duration of the trip, and that you will be returning to your current job. If you are self-employed, include a copy of your business license and tax return. For students, please submit an official letter from your school indicating that you are in good standing and that you are registered for the upcoming semester. If you are retired please submit proof of your retirement fund.

h
Personal Invitation from Host in Australia. If visiting friends or family, you must provide letter of invitation with the contact information of the host and visitor, purpose and duration of the visit, confirmation of accommodation including the address, signature and date. You will also need to provide proof of the host's status in Australia ie. copy of their Australia passport's information page, or, if they are not a citizen of Australia, copies of their Australia residence permit and their national passport's information pages.
If you will be receiving financial support from a host or other sponsor in Australia, please provide a copy of that individual's bank statement. Please note that the invitation letter from your host should specifically state the types of support they will be providing (financial, accommodations, etc).

i
Immediate Family Information.
Evidence of immediate family members in country of residence. Please fill out
Family Composition form
and provide copies of valid ID and their contact information of your family members.
j
Mortgage/Lease. A copy of the applicant's mortgage or lease. If renting without a lease, please submit a letter from the owner of the house stating the duration and the contract terms of your stay.

k
Personal Letter. A personal letter from the applicant addressed to the Embassy of Australia, explaining the purpose of the trip, dates of travel, cities to be visited, and place of accommodation. The letter must be written and signed personally by the visa applicant or their legal guardian. A tour company cannot provide the letter on the visa applicant's behalf.

l
Military Service Record. If applicant has served in the military, please provide a certified copy of military service record or discharge papers (for former military).

m
Proof of Name Change. If applicant has changed their legal name at any point in time, please provide a copy for the proof of name change.

n
Form 956A.
Applicants must fill out this form in order for the visa to be processed. The form can be found
here
.
Please be advised that the Embassy of Australia may extend the processing time up to 6 weeks for certain applicants. This decision is entirely at the embassy's discretion.
Additional required documents for minors (under 18)
1. If you are younger than 18 years of age: evidence that every person with a legal right to decide where you live consents to your travel to Australia on this visa. If one or both parents are not coming with you, provide:
• a statutory declaration giving their permission. The declaration form can be found
here
.
• Form 1229 Consent form to grant an Australian visa to a child under the age of 18 years. If you use this form, you will have to attach a certified copy of your parent's or guardian's government-issued identification document (such as a passport or drivers licence) with their photograph and their signature. This form can be found
here
.
2. If you are younger than 18 years of age and you will stay in Australia: with someone other than a parent, legal guardian or relative.
• a declaration signed by the person who will be responsible for you in Australia.
• Form 1257 Undertaking declaration. This form can be found
here
.
3. Evidence of enrollment at school, college or university.
Australia tourist visa fees for citizens of Croatia
Type of visa

Validity

Processing

Embassy fee

Service fee
Total cost
Visitor Visa
(Subclass 600)
up to 1 year
15-30 business days
145.00
139.00
284.00
Visitor Visa (Subclass 600)
Validity: up to 1 year
Processing: 15-30 business days
Total cost:
Maximum stay in Australia: 90 days

Maximum stay in Australia: 90 days

Australia visa for citizens of Croatia is required. For more information please contact the nearest
Australia embassy
.
Your documents
are safe with VisaHQ
All passports are
covered for up to
500
We take our job seriously. All passports that are submitted to VisaHQ for processing are covered for up to $500 against any loss or damage. If you choose FedEx when applying online, we will even cover your passport in transit to us and from us to you.
Your peace of mind is our greatest reward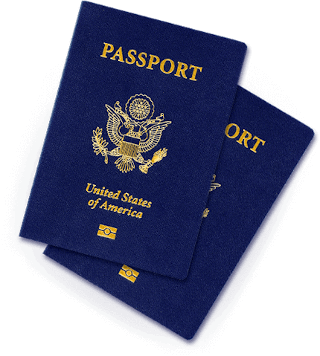 Find us near you
To apply for Australia visa in
Australian visa information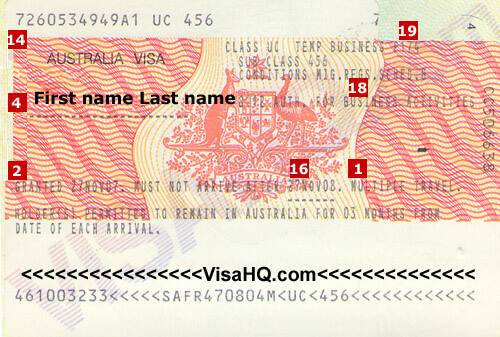 1
Australia Visa category as defined by Australian Embassy.
2
Australia Visa validity.
4
Name of Australian visa holder
16
Date of Australian visa expiration
18
Purpose of entry to Australia (type of Australian visa)
19
Business visa invitation number (applicable to Australia business visas only)
Frequently Asked Questions about Australia visa
I am a returning resident, what are my visa options?

There are visa options available for current or former Australian permanent residents, or former Australian citizens to re-enter Australia.

What do i need to enter Australia?

Everyone travelling to Australia must present a valid and approved travel document as evidence of their identity and nationality.

Does US green card holder need visa to Australia?

If you are US Citizen then there are easy ways to enter in Australia but US Green Card Holders or Permanent Visa holders would not have any thing special. Incase, if you are holding Indian passport with US permanent visa so you would need to apply for Tourist Visa (subcalss 600). It is depends on your citizenship.

Can I travel on a passport in which the name is different from my ticket?

You should contact your airline to see if they will carry you. If so, you should then contact the immigration department of all countries to which you are travelling (except Australia) to ensure you will be able to fulfil their immigration/customs requirements.

I would like to work in Australia, what do i need to do?

You can find a range of temporary and permanent skilled visas online. Includes Working Holiday (417) and Temporary Work - Skilled (457) visas.
United States of America Embassy list in Australia
United States of America Embassy in Canberra

United States of America Consulate in Melbourne

Address

553 St Kilda Road
Melbourne,
Victoria 3004


United States of America Consulate in Perth

Address

4th Floor
16 St. George's Terrace
WA 6000
Perth
Australia


United States of America Consulate in Sydney

Address

Level 10, MLC Centre
19-29 Martin Place
NSW 2000
Sydney
Australia

Australia Customs
If you are aged 18 years or over



Tobacco products 250 cigarettes, or
250 grams of cigars or tobacco products
Alcoholic beverages 2.25 litres of alcohol
up to A$900 worth of general goods. (General goods include gifts, souvenirs, cameras, electronic equipment, leather goods, perfume concentrates, jewellery, watches and sporting equipment.)

Firearms, weapons and ammunition
Drugs
Currency
Food, plants, animals and biological goods
Medicinal products
Protected wildlife and wildlife products
Heritage-listed goods
Veterinary products
Defence and strategic goods

Firearms, weapons and ammunition
Drugs
Currency
Food, plants, animals and biological goods
Medicinal products
Protected wildlife and wildlife products
Heritage-listed goods
Veterinary products
Defence and strategic goods

Basic health information for travelers to Australia

Dengue, Murray Valley Encephalitis (MVE) and Ross River Fever (RRF) occur periodically in northern parts of Australia (the Northern Territory, North Queensland and northern Western Australia) and in parts of South Australia. Sensible countermeasures include wearing plenty of tight fitting clothing that exposes little in the way of raw skin for the mosquitoes to attack and large amounts of insect repellent for defence.
All travellers should seek medical advice before travelling to the country and ensure that all appropriate vaccinations are up to date.
It is always recommended to keep a certificate of vaccination against Yellow Fever when one has travelled to countries with infected areas.

Basic security information for travelers to Australia

There is a general danger of terrorist attacks of foreign visitors to the country. All travellers should take care when in public places or travelling to more remote sections of the country.
Instances of street crime and violent robbery have been reported in several major cities throughout the country and all travellers are advised to keep their passport and other valuables in a safe and secure location for the duration of their visit and should avoid any obvious displays of affluence which could potentially attract attention. Travel alone after dark is not recommended and all visitors should keep at least one copy of their passport with them at all times in case of an emergency.

Contact Customs Authorities

For further assistance please contact the Australian Customs authorities directly. They will provide the latest information about customs regulations and export-import procedures.

Australian Customs contact information

Address

Canberra - National and Regional Head Office
Customs House
5 Constitution Avenue
CANBERRA CITY ACT 2601


For additional information about travel restrictions, security warnings, political updates, and basic travel guidelines, please contact the nearest Australian Embassy.